Joint Replacement & Reconstruction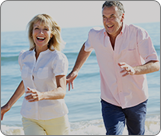 Joint Replacement & Reconstruction
Joint replacement is a surgical procedure in which the worn, damaged surfaces of the joint are removed and replaced with new artificial parts. Your doctor may consider joint replacement if you have severe pain that limits daily activities and is not relieved with medications, injections, physical therapy, or other treatments.
Ocean Orthopedic Surgery and Sports Medicine specializes in surgical procedures ranging from fracture care to joint replacements. We provide a patient-centered and compassionate approach to help you return to a healthy and active lifestyle.
Not everyone is a candidate for this procedure. If your joint problems are interfering with the activities you enjoy, contact us today to find out if you may be a candidate for this potentially life-changing procedure.
Various joint replacement surgeries include: