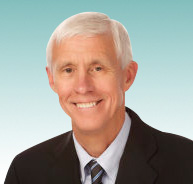 Thomas F. Golden, MD
Joint Replacement & Arthroscopy Specialist
Dr. Thomas Golden has more than 30 years of experience as an orthopedic surgeon. He possesses expertise in a wide range of orthopedic procedures specializing in the shoulder, knee and hip, having performed more than 3,000 joint replacements and 5,000 minimally invasive arthroscopic procedures. He is certified through the American Board of Orthopedic Surgery and is a Fellow of the American Academy of Orthopedic Surgery.
Dr. Golden belongs to several professional organizations including active membership in the Arthroscopy Association of North America (AANA). AANA seeks to advance education pertaining to minimally invasive surgeries of the knee and shoulder with the use of an arthroscope. He is also an active member of the American Association of Hip and Knee surgeons (AAHKS) which advances the education of surgeons who specialize in hip and knee replacement. Dr. Golden performs hip replacements using the Direct Anterior Approach.
Dr. Golden studied engineering at the U.S. Naval Academy and Molecular Biology at the University of California, San Diego. He earned his medical degree from the University of Virginia School of Medicine. Dr. Golden served his internship in Family Practice at UCLA Harbor General Hospital in California. He attended the Family Practice Residency at the Ventura County Medical Center. Subsequently, he completed 4 years of specialty training in Orthopedic Surgery at the San Francisco Orthopedic Residency Program.
Dr. Golden's leadership activities include terms as Chief of the Medical Staff, Chief of Orthopedics, and Chief of Surgery at Community Memorial Hospital. He is currently the Co-Director of the CMHS Orthopedic Surgery Residency in Ventura, California. In 2016 Dr. Golden received the Cephus Bard Physician of the Year award.
Education
University of Virginia, School of Medicine


M.D. Degree 1971 to 1975

University of California San Diego


Molecular Biology 1970 to 1971

U. S. Naval Academy, Annapolis, Maryland


Engineering 1967 to 1970
Certificates
American Board of Orthopaedic Surgery


1985

American Board of Family Practice


1978

Qualified Medical Examiner


1997
Residency Internship
San Francisco Orthopedic Residency Program

St. Mary's Hospital, San Francisco, California
VA Hospital, Martinez, California
Kaiser Hospital, San Francisco, California
Seton Medical Center, Daly City, California
1979 to 1983

Family Practice


Year Two and Three, Ventura County Medical Center
UCLA Affiliated Program
1976 to 1978

Family Practice

Year One UCLA Harbor General Hospital, Torrance, California
1975 to 1976
Practice Experience
Orthopaedic Surgeon

, Ocean Orthopedic Surgery & Sports Medical Group Ventura, California 1991 to present

Orthopaedic Surgeon

, Oxnard Orthopaedic Surgery, Oxnard, California 1988 to 1991

Orthopaedic Surgeon,

Peterson Medical Clinic, Santa Paula, California 1983 to 1988

Staff Physician,

Los Robles Hospital Emergency Room, Thousand Oaks, California 1978 to 1979
Societies
Active Member, Arthroscopy Association of North America (AANA)
Fellow, American Association of Hip and Knee Surgeons (AAHKS)
Fellow, American Academy of Orthopaedic Surgery
California Medical Association
Southern Orthopedic Association
Ventura County Medical Association
Special Interest in Orthopedic Surgery
Arthroscopic Surgery of Shoulder and Knee
Total Joint Replacement Hip, Knee & Shoulder
Hospital Affilations
Community Memorial Hospital, Ventura, Californiz


Active
Medical Activities
Chief of Orthopedic Surgery, CMH


2016-2018

Co-Director, CMHS Orthopedic Surgery Residency


2015-Present

Member, Fellowship Committee, Arthroscopy Association of North American (AANA)


2016-Present

Member, Communications Committee, Arthroscopy Association of North American (AANA)


2016-Present

Chair, Bylaws Committee of the Medical Staff, CMH


2018-Present

Member, Research Committee, Anterior Hip Foundation


2017-Present

Board of Directors, Community Memorial Health System


2011-2016
Teaching Experience
Co-Director, CMHS Orthopedic Residency Program


Community Memorial Hospital, Ventura, California
2016-Present

Assistant professor of Orthopedic Surgery, Western University


2013-Present

Advances in Orthopedic Surgery


J.W. Moore Conference, Community Memorial Hospital
October 2010

Running Injuries


LA Marathon Roadrunner Training Program
2005-2007

Arthroscopic Surgery of the Shoulder


J.W. Moore Conference, Community Memorial Hospital
June 1998

Arthroscopic Subacromial Decompression


Linvatec Arthroscopic Study Group, Useppa Island, Florida
May 1996

Attending Orthopedic Surgeon


Ventura County Medical Center, Orthopedic Clinic, Ventura, California
1983-1988

Carpal Instability


San Francisco Orthopedic Surgery Grand Rounds
December 1982

Multilevel Cervical Fusion


San Francisco Orthopedic Surgery Grand Rounds
December 1981

Anterior Cruciate Ligament Insufficient Knee


San Francisco Orthopedic Surgery Grand Rounds
November 1980
Educational Courses
AANA Annual Meeting


Denver, CO
5/18/17

Oxford Unicompartmental Knee Replacement


Salt Lake City, UT
2/16-2/18/17

AANA Resident/Fellow Course


Fundamentals in Arthroscopy
1/19/17

Direct Anterior Approach – Hip Replacement, Joel Matta, M.D.


Las Vegas, NV
11/18/16

American Academy of Orthopedic Surgeons (AAOS)


Annual Meeting – Rosemont, IL
11/6-11/10/16

Medical Risk Management, Inc.


Risk Management Consult: CRM for Orthopaedists
10/08/16

San Diego Shoulder Course


San Diego Shoulder Institute 2016
6/22-6/25/16

Southern California Orthopedic Institute


6/11/16

Community Memorial Hospital of San Buenaventura


Faculty Development
2/08/16

Community Memorial Hospital of San Buenaventura


Medical Staff Leadership Symposium
1/30/16

Medical Risk Mangement, Inc.


Risk Management Rounds, Orthopaedics Plus,Vol IV
9/07/15

American Academy of Orthopedic Surgeons (AAOS)


Annual Meeting – Las Vegas, NV
3/24 – 3/28/15

Foundation for Orthopaedic Research and Education


3rd Annual VuMedi – The Event
11/21-11/23/2014

Medical Risk Mangement, Inc.


Risk Management Rounds, Orthopaedics Plus,Vol III
10/13/14

The Governance Institute


The Broadmoor, Leadership Conference
9/14-9/17/14

San Diego Shoulder Course


San Diego Shoulder Institute 2014
6/18-6/21/2014

Southern California Orthopedic Institute


Annual Fellow's Day Presentations
6/14/2014

AANA Specialty Day Program


Shoulder and Knee Arthroscopy
3/23/14

American Academy of Orthopedic Surgeons (AAOS)


Annual Meeting – New Orleans, LA
3/11-3/15/14

Saint John's Health Center


Medical Staff Leaders and the Law
2/07/14

Arthroscopy Association of North America (AANA)


Fall Course Shoulder, Knee, Foot, Ankle and Hip
Mini Fellowship Dr. Angelo
11/7-11/09/2013

American Academy of Orthopedic Surgeons (AAOS)


Annual Meeting – Chicago, IL
3/19-3/23/13

AANA Specialty Day Program


Shoulder and Knee Arthroscopy
3/23/13

Saint John's Health Center


Medical Staff Leaders and the Law
2/08/13

Medical Education Resources


Chief of Staff Boot Camp
12/7-12/9/2012

Foundation for Orthopaedic Research and Education


VuMedi – The Event
11/16-11/18/2012

American Academy of Orthopedic Surgeons (AAOS)


Annual Meeting – San Francisco, CA
2/7-2/11/2012

AANA Specialty Day Program


Shoulder and Knee Arthroscopy
2/11/2012

ASES Specialty Day Program


Combined AANA/ASES Specialty Day session
2/11/2012

Advances in Orthopedic Surgery


J.W. Moore Conference, Community Memorial Hospital
October 2010

Arthroscopic Surgery of the Shoulder


LA Marathon Roadrunner Training Program
2005-2007

Arthroscopic Subacromial Decompression


Linvatec Arthroscopic Study Group, Useppa Island, Florida
May 1996

Carpal Instability


San Francisco Orthopedic Surgery Grand Rounds
December 1982

Multilevel Cervical Fusion


San Francisco Orthopedic Surgery Grand Rounds
December 1981

Anterior Cruciate Ligament Insufficient Knee


San Francisco Orthopedic Surgery Grand Rounds
November 1980

AAOS – Orthopaedic Knowledge Update 10 Home Study Program


11/10/2011

AAOS – Scored and Recorded 2011 OSAE


Self-Assessment Examination
11/10/2011

Southern California Orthopedic Institute, Stephen Snyder M.D.


6/11/2011

Community Memorial Hospital of San Buenaventura


4/09/2011

American Academy of Orthopedic Surgeons (AAOS)


Annual Meeting – San Diego, CA
2/17-3/13/2010

AANA Specialty Day Program


Shoulder and Knee Arthroscopy
3/13/2010

American Academy of Orthopedic Surgeons (AAOS)


Annual Meeting – New Orleans, LA
11/19-11/21/2009

AANA Specialty Day Program


Shoulder and Knee Arthroscopy
3/09-3/13/2010

Arthroscopy Association of North America (AANA)


Fall Course Shoulder & Knee Mini Fellowship Knee Dr. Fanelli, Knee Model Laboratory
11/19-11/21/2009

San Diego Shoulder Course


Arthroscopy Arthroplasty Fractures
6/17-6/20/2009

American Academy of Orthopedic Surgeons (AAOS)


Annual Meeting – Las Vegas, NV
2/25-2/28/2009

AANA Specialty Day Program


Shoulder and Knee Arthroscopy
2/28/2009

Risk Management for Physicians, Surgery


Medical Risk Management, Inc.
6/01/2008

Risk Management for Physicians, The Complete Series


Medical Risk Management, Inc.
5/29/2008

Southern California Orthopedic Institute, Stephen Snyder M.D.


Shoulder Instability Van Nuys, CA
5/19/2008

American Academy of Orthopedic Surgeons (AAOS)


Annual Meeting – San Francisco, CA.
3/5-3/09/2008

AANA Specialty Day Program


Shoulder and Knee Arthroscopy
3/08/2008

Linvatec Shoulder Arthroscopy Workshop


Stephen Synder, M.D.
10/13/2007

San Diego Shoulder Course


Arthroscopy Arthroplasty Fractures
6/20-6/23/2007

Zimmer Techniques & Technologies


Total Hip and Knee Arthroplasty
12/1-12/2/2006

Arthroscopy Association of North America (AANA)


Fall Course Shoulder, Knee, Foot & Ankle
11/9-11/11/2006

ACL Reconstruction, Shoulder Instability & Labral Repair.


Risk Management for Physicians Medical Risk Management Inc.
2/09/2005

American Academy of Orthopedic Surgeons (AAOS)


Annual Meeting – Washington D.C.
2/23-2/27/2005

AANA Specialty Day Program


Shoulder and Knee Arthroscopy
2/26/2005

San Diego Shoulder Course


Arthroscopy Arthroplasty Fractures
6/22-6/25/2005

American Academy of Orthopedic Surgeons (AAOS)


Annual Meeting – San Francisco, CA.
3/10-3/14/2004

AANA Specialty Day Program


Shoulder and Knee Arthroscopy
3/13/2004

The Zimmer Institute MIS Total Hip & Knee Symposium


Newport Beach, CA
11/12/2000
To know more about Dr. Thomas Golden please visit www.orthopedicsurgeonventura.com