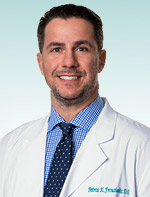 Petros K. Frousiakis, D.O.
Orthopaedic Sports Medicine
Education
Pre-Med
University of Minnesota (UMM), P 612-625-5000,
240 Williamson Hall, Minneapolis, MN 55455-0213
2002

California State University of Fullerton, P 657-278-2011
800 N State College Blvd, Fullerton, Ca 92831
6/30/06 - 5/30/09 BS
Med School
Western University, College of Osteopathic Medicine (COMP)
Pomona, Cal P 909-623-6116, 309 E. 2nd Street, Pomona, CA 91766
6/30/09 – 5/30/13 DO
INTERNSHIP
Community Memorial Health Systems, P 805-652-5672
147 N. Brent Street, Ventura, CA 93003. Dr. Samuel Small
6/30/13 – 6/30/14
RESIDENCY
Community Memorial Health Systems, P 805-652-5672
147 N. Brent Street, Ventura, CA 93003. Dr. Samuel Small
7/01/14 – 6/30/18
FELLOWSHIP
Southern California Orthopedic Institute – Sports Medicine
Van Nuys, California. Dr. Richard Ferkel
8/1/18 - 7/31/19
PRACTICE EXPERIENCE
Orthopaedic Surgeon, Petros K. Frousiakis, D.O., APC.
Ventura, California
2019 to Present
SOCIETIES
American Academy of Orthopaedic Surgeons
American Osteopathic Academy of Orthopedics
American Osteopathic Association
American Medical Association
Osteopathic Physicians and Surgeons of America
CERTIFICATIONS
California License #20A13803
2013
American Osteopathic Board of Orthopaedic Surgery
passed written 5/14/18
oral 2021
HOSPITAL AFFILIATIONS
Community Memorial Hospital, Ventura CA, Provisional Medical Staff
2019 - Present
Ojai Valley Community Hospital, Ventura Ca, Provisional Medical Staff
2019 - Present
LEADERSHIP, AWARDS AND SERVICE
Chief Orthopedic Resident CMHS
2015-2018
VietCal Board Member Viet Due Hospital, Hanoi, Vietnam
Provide medical care in association with local Vietnamese surgeons
2017-Present
Team Resident Physician
Provide medical care for sporting events at Buenaventura High School
2013-Present
Resident Liaison Graduate Medical Education CMHS
Assisted in policy-making decisions on behalf of all resident specialties
2013-2015
Resident of the Year Award
2013-2014
Volunteer Healing Hearts Across Borders
Volunteered for clinical mission trips to Tijuana, Mexico, four times per year
2011-2013
Student Instructor Western University of Health Sciences – COMP
Instructed first year medical students in clinical skills
2010-2013
President and Co-Founder Young Adult League
Promoted fellowship and worship through community service
2008-2013
Captain Relay for Life of Corona
Raised over $180,000 for American Cancer Society
2007-2013
Founder and Coordinator Rejuvenate the Colorado River
Led a biannual beautification of a stretch of the Colorado River
2005-2013
Volunteer St. John's Greek Orthodox Church
Participated in the annual church fundraising festival
1995-2013
Volunteer Some Cares Soup Kitchen
Served food to hundreds of struggling families during the holiday season
2005-2009
Assistant Coach Canyon High School
Mentored students in their pursuit of academic and athletic goals
2003-2009
EDUCATIONAL EXPERIENCE
Comprehensive Approaches to Articular Cartilage Repair
Carlsbad, California
Jan 2019
Advanced Anterior Hip Arthroplasty Course
Long Beach, California
Feb 2018
AOA Postgraduate Seminar
Nashville, Tennessee
April 2017
Enneking Pathology Course
Gainesville, Florida
April 2017
AOA Emerging Leaders Conference
Los Angeles, California
Jan 2015
Basic Principles of Fracture Management
Columbus, Ohio
Sep 2014
Basic Orthopedic Skills Course
Blacksburg, Virginia
Feb 2014
RESEARCH
Community Memorial Health System, Department of Orthopedics
2015-Present
Designed and implemented a novel perioperative protocol to improve quality improvement measures and overall patient care. The project aimed to promote the healthcare team's ability to identify and use all available resources, to manage workload, stress and fatigue and to communicate effectively to ensure team cohesiveness and situational awareness throughout the entire procedure.
Department of Biology, California State University, Fullerton
2006-2009
Generated recombinant clones of the full-length, ATPase, and the signal binding domain regions of the HSPA8 molecules. Assisted in translocation of the products of the polymerase chain reaction into E. coli cells to produce recombinant proteins.
PUBLICATIONS
Frousiakis PF, Burge JR, Jazayeri R. Arthroscopic superior capsular reconstruction with partial rotator cuff repair. Am J Sports Med. 2018: in preparation.
Frousiakis PF, Halikis M. Compressive sensory neuropathy of a pediatric forearm. J Pediatr Orthop. 2018: submitted.
LANGUAGES
Fluency in written and spoken Greek. Intermediate written and spoken Spanish.